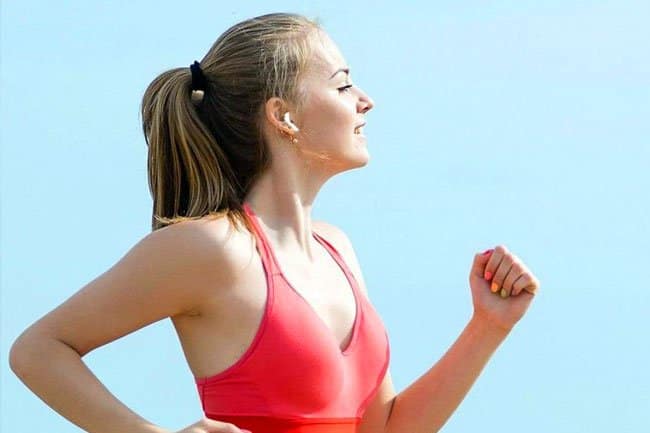 Table of Contents
Are AirPods Pro Good For Running? Do They Work For Running?
Yes, the Airpod pro works very well for running, they are very comfortable, sweatproof, and secure from falling out while working out, running, or jogging, in addition to that, its noise-cancellation and transparency feature allows you to enjoy and stay focused on your workout session, this makes it a very good choice for working out and running.
9 Reasons AirPods Pro & Pro 2 Good For Running & Working Out
Airpods are good for running and workouts because they are:
Sweatproof.
Has transparency mode.
Has Noise Cancelling mode.
Versatile.
Has an Adaptable Equilizer.
Has a smooth Control feature.
Comfortable.
Charges automatically.
All in one solution.
[1] – AirPods Pro Are Sweatproof
AirPods Pro is dubbed sweat-resistant headphones so you know the answer to provide when you get the question, "are AirPods Pro sweatproof?". You won't have to bother with them being soaked in sweat and getting spoilt whether you are running or in the gym. This is yet another feature that satisfies the question, "are AirPods Pro good for working out?"
[2] – AirPods Pro Transparency Mode
In the transparency mode, using AirPods Pro you can hear the sound from your environment and still enjoy your music, that way you will know when a car is behind you while you are running or cycling and have enough time to move out of the way.
Other headphones allow you to hear environment sounds but most of them have a sound delay such that you can hear the sound but it comes in late thereby reducing the time you have to react; however, the microprocessor and quality microphone of the AirPods Pro transmit street sounds faster without much delay.
[3] – AirPods Pro Noise-Canceling Mode
On the other hand, if you prefer to be in your own world while you work out, you will find the noise-canceling mode preferable. In this mode, you feel like there is a total silence around you; depending on how well the "AirPods Pro" fits into your ears, you might not hear the person that is closest to you.
The microphone does this by taking external noise and launching a sound wave of the same magnitude in the opposite direction with the help of the AirPods Pro speaker. The noise-cancellation is the best feature when working out in the gym. So when you get the question, "Can you work out with AirPods Pro?", your answer should be "Yes, absolutely."
[4] – AirPods Pro Are Versatile
The AirPods Pro is very versatile, allowing you to switch between Transparency Mode and Noise-Canceling mode.
Most of the time, people who run or cycle are faced with the quandary of either listening to their favorite songs or removing their headphones to cut off distractions or a disaster.
NOTE: This dilemma is what Apple resolved with the AirPods Pro transparency mode.
[5] – AirPods Pro Have An Adaptable Equalizer
People who already own AirPods Pro headphones have reported that they can withstand a noisy environment like a very busy road. When running on a busy street, even when your AirPod pro is turned up to half the volume, you can clearly listen to your music and still be aware of the goings-on in the environment; the same output is what you'll get even when you are running close to an airport or even a train station.
It comes with an adaptable equalizer (EQ) that produces quality and properly-tuned sound as it combines all the parameters necessary for a quality sound. The AirPods Pro is capable of adjusting to the shape of your ears.
[6] – AirPods Pro Comes With A Smooth Control Feature
The headphone controls are another major change that came with the AirPods Pro. There are no buttons for you to tap on as with the previous AirPods, instead, you control the AirPods Pro by squeezing the stem which is a lot easier to do when you are running.
To switch between noise-canceling mode and transparency mode, you need to long-squeeze the stem.
Another way you can control the AirPods Pro is with voice activation; the new and improved microphones allow you to send a command to Siri without having to shout. The AirPods Pro can read your messages out loud with the exception of phone calls and joint listening to audio – with the AirPods Pro you can listen to a song with your friend.
[7] – AirPods Pro Is Very Comfortable
One other great feature of the AirPods Pro is that they are very comfortable, and light and they fit well into your ear. In fact, you might even forget that you have them on compared to earlier AirPods that can easily fall out. The shorter stem that the AirPods Pro has as well as its silicone tips provide a better balance so that the headphones remain in place thus answering the question "are AirPods Pro good for running?"
[8] – AirPods Pro Case Charges Automatically
It does not matter whether the AirPods Pro case is plugged into a power source or not. As soon as the headphones are placed into the case, the case begins to charge them.
[9] – You Won't Need To Get More Than One Headphones
The Airpod Pro is an all-in-one combo; though it may seem overpriced, in the long run, you will save more.
The Airpod pro can fit into any occasion and for all demands. Whether you are running, hitting the gym, or going to an event you would be safe to have this gadget in your ears.
No need to worry about the burden of having too many gadgets in your arsenal. The Airpod Pro is all you need.
Related Questions
Will AirPods Pro Fall Out While Running?
No, the AirPods Pro won't fall out while running at all, unlike other earbuds or headphones that might fall or need a lot of readjusting while you running. their smart design makes them fit well into your ears and prevents them from falling out under any circumstances.
Although the AirPods Pro comes with three different sizes of ear tips. The reason is so that at least one of the ear tips fits the user perfectly to prevent AirPods Pro from running fall out.
Check out this video review for which Airpods Pro doesn't fall out while working out or running
However, if you are planning to use Airpods 1 or Airpods 2 for running or working out, or even using different Earbuds brands, then you should check my other article 15 Hacks To Stop Earbuds From Falling Out While Jogging.
Can I Run With AirPods Without A Phone?
Yes, it is very possible to go running wearing your AirPods Pro without having to strap your iPhone to your arm, by using Apple Watch Series 3 and above that has a built-in cellular and GPS, you can stream your music wirelessly and also map your runs. 
To listen to music via your AirPods Pro without bringing your iPhone with you, you will need to have either of Apple Watch 3 or 5 series. With any of the series, you can stream music to listen to while you run; both come with a built-in GPS which you can actually use to map how far you will run. You can also download some songs into the Apple Watch and listen.
If you are interested in using AirPods Pro for your jogging just like me, you can check its discount prices from Amazon.
Conclusion
In conclusion, one of the best headphones for running or workouts is the AirPods Pro. When you compare AirPods Pro vs Powerbeats Pro, you will find that AirPods Pro only falters in not having a hook design to prevent the headphone from falling off like the Powerbeats Pro. Apple appears to be working on an improved AirPods Pro because there are some rumors about an imminent model called AirPods Pro 2.