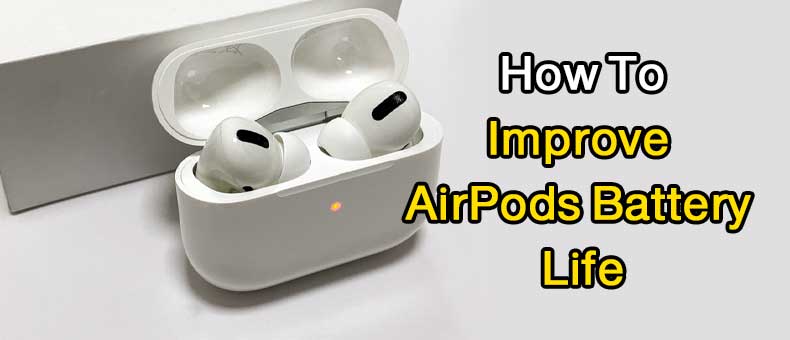 Apple Airpods are known for their amazing uniqueness both in sound and features. these Airpods like every other available Earbud are made with very tiny lithium-ion batteries that degrade gradually with time.
If your main challenge is to know how long the AirPod battery last and also to enhance a longer life for your AirPods then you need not look any further, as all relevant solutions are provided below. This article focuses on 9 tips to improve Airpods' battery Life.
Table of Contents
10 Tips To Improve Airpods Battery Life
#1: Always Keep Airpods In Their Case
So many AirPods users make the mistake of leaving their Airpods outside the case that even when they fall asleep, both pairs are left to drain down before morning.  Whenever the Airpods are not in use, they should be put back into their case to be charged and also preserve their current battery life.
#2: Use One Earbud At A Time
One of the best ways to optimize your AirPods battery life is to avoid using both Earbuds at the same time. Especially at a time when there is not much noise in the surrendering environment.
NOTE: Using a single Earbud one at a time helps reduce the number of charging cycles in the AirPods lifespan.
Very few people put this act into practice, but significantly, the record has it that using one Earbud at a time helps you to be alert to the potential hazards surrounding you.
#3: Always Use Airpods At A Lower Volume
Just like every other device, using them at a lower volume level reduces the rates of power consumption and effectiveness. This is one of the most effective ways of optimizing the battery life of any AirPods as the level of the volume determines the level of its power consumption.
Unless where necessary, Airpods shouldn't be used at volume above 60% to help your AirPods optimize their battery consumption and which is also healthier for your ears and protects them from having tinnitus or hearing loss over time.
#4: Disable Some Extra Features
Whenever Airpods are paired to any Apple device, all features activated on such device are directly connected to the Airpods. Some of these features are mostly not necessary but have a great negative impact of draining down the AirPods battery heavily.
NOTE: There are a series of iOS features that can be disabled or turned off to maximize battery health.
Below are some of the features to disable if you want to optimize battery consumption;
Turn off Automatic Ear Detection

Launch the "Settings" of your iOS device.
Click "Bluetooth".
Select the AirPods from the paired "Bluetooth devices".
Toggle "Automatic Ear Detection" to disable.

Disable hey Siri

Take the Airpods out of the case, while connected to your device.
Open device "Settings" and click on "Bluetooth".
Go through all paired devices and find the Airpods.
Tap the "i" icon on the right to open Airpods settings.
Click "Double-tap on AirPod" to see the ears that control Siri

In the next menu click "off".

Turn off spatial audio

Tap "Open Control Center" on your iOS device.
While wearing both Airpods, touch and hold the volume slider until you see additional controls on your device.
Tap on "Spatialize Stereo" icon in the lower-right corner.
Tap on the "off" icon.

Disable Active noise cancellation and transparency mode

Open "Control Centre" on your iOS device.
While wearing both Airpods, touch and hold the volume slider until you see additional controls on your device.
Tap the "Noise Control" icon in the lower-left corner.
Tap on the "off" option in the middle between noise cancelation and transparency icons.

Turn Off Live listen Audio

On the device settings, open the "Control Center".
Tap "Hearing" icon again.
Tap "Live listen" to turn it off.

Turn Off Headphone levels

Open "Settings" on your device.
Tap "Sounds & Haptics".
Tap "Headphone Safety".
Turn Headphone Notifications "off".

Turn Off Conversation Boost

Launch "Settings" on your iOS device and tap "Accessibility".
Tap "Audio/Visual".
And turn on "Headphone Accommodations".
Tap "Transparency Mode".
Toggle the switch at the "Conversation boost" to turn it off.
#5: Avoid Extreme Hot and cold Temperature
At every point in time avoid extreme temperatures for your AirPods. Extreme temperatures, (both cold and hot) are known killers of any lithium-ion batteries, which are what make up the Airpods batteries.
Avoid using your AirPods frequently in unfriendly temperatures and also avoid leaving them to direct sunlight.
#6: Avoid Leaving Your AirPod Uncharged For Too Long
As earlier said Airpods are made with lithium-ion batteries and therefore shouldn't be left uncharged for a long period.
NOTE: All lithium-ion batteries are known for not being able to retain power after being completely discharged for too long.
In order to avoid this, the AirPods should always be left in their charging case when not in use, and also the AirPods charging case shouldn't be left completely drained of power for too long.
#7: Avoid Discharge AirPods Till They Stop Working
This is another mistake that most people don't realize, using your AirPods till their batteries drain all their charge is extremely not advisable.
The best practice to do is to recharge your AirPods after every usage especially if you used them for a long time by putting them back into their case and charging the case if it doesn't have that much charge.
#8: Update IOS and AirPods
The optimized charging feature was introduced by Apple from the upgrade done on IOS 13 and other newer versions of IOS, this option keeps AirPods from overcharging when left inside the charging case.
NOTE: Overcharging can cause degradation in the battery life span.
Just like every other IOS device, Apple often releases firmware updates for their Airpods and AirPods Pro devices. Always update your Airpods to the latest available firmware to enhance better performance and also optimize longer battery life.
To update AirPods or AirPods Pro Firmware:
Put both AirPods into the charging case.
Connect the case to the charging source.
Pair the AirPods to your iPhone in case they weren't.
Connect your iPhone to the internet.
This way, the AirPods will get the latest firmware from the internet.
To Check the AirPods current firmware version:
On your iOS, launch the "Settings".
Select "General".
Select "About".
Select "AirPods".
Check the Firmware Version.
#9: Purchase A Power Bank
Airpods no matter how you try to keep them alive and charged have a designated hour they can last before they completely drain down.
If you are not always close to a power source to charge them frequently, the best option is to purchase a power bank that will enable you to charge them always.
#10: Try Resetting Your AirPod
Sometimes you might have tried all the above-mentioned tips and you find out your AirPods battery still keeps draining, the last option should be resetting your AirPods.
Resetting your AirPods takes it back to its factory settings to disable some features that were previously activated but couldn't be detected.
Related Questions
How To Save AirPods Battery Without Case?
Fully charged Airpods are only designed to last for about 4 to 5 hours without their case, but to extend and save more battery life when the case isn't close by, then you must minimize its usage.
This can be done by using them for calls only, without playing music and other features. One can as well turn it off completely when not readily in use.
Conclusion
Just like every other battery-using device, the battery life span reduces after a long duration of usage. For AirPods, after about 2 years of usage, the lithium-ion battery is said to deteriorate and, in most cases, nothing could be done to revive the battery life except to take it to the Apple service center where the Airpods battery can be serviced or completely replaced.