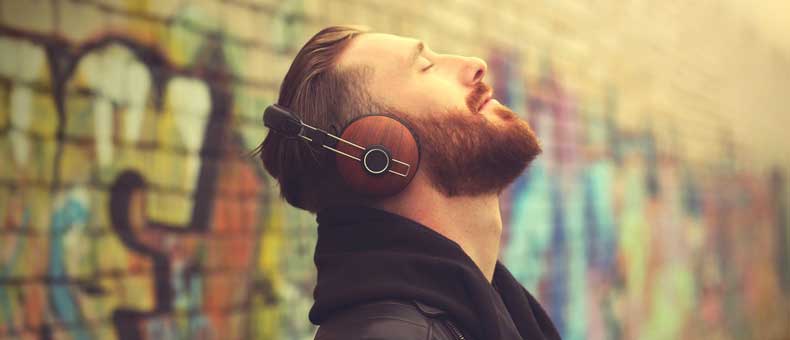 Table of Contents
Which are better, headphones or earphones? Its headphones for superior quality, sound, and comfort. I don't know about you, but the time I spend kicking back, with my headphones on, listening to my jam is my favorite. Ask any audio professional and the verdict is clear, it's headphones all the way.
However, when it comes to headphones vs earbuds, life doesn't start and stop in the sound booth. These days we depend on headphones and earphones to deliver the best sound experience possible for a whole host of applications.
Video games, audiobooks, even video, and telephone conferencing, more and more, there are a growing number of applications that demand high-quality personal audio. So, headphones vs earphones which is best? It's headphones overall, but let's take a look at some big comparables and explore the pros and cons.
Headphones vs Earphones What Is the Difference?
Headphones – Mini loudspeakers that are worn over or outside the ears.
Earphones/Earbuds – Mini loudspeakers which are worn inside the ears.
Are Headphones Safer Than Earphones?
Yes, headphones are safer. Headphones allow for a limited amount of space between the speaker and your ear that provides a buffer, unlike the earbuds which you need to use in a way that reduces your exposure to injury.
So, to go further into answering the question (Earphones or headphones, which is safer?) Headphones provide a safer listening experience. The health risks posed by earphones or earbuds stem from design and poor quality.
Health risks posed by design come from the proximity of the speaker to the inner ear. Earphones/earbuds are mini sound drivers that push audio directly into your inner ear canal. Sustained audio at high levels can cause hearing damage.
NOTE: It's important to be kind to our inner ears, there's no replacement warranty.
Headphones vs earbuds, the poor quality of most earbuds is the biggest culprit when it comes to possible health risks. Most folks don't purchase quality earphones, they grab the cheapest ones instead. This leads them to turn up the volume in an increasing effort to get past the terrible sound quality. Good quality doesn't have to mean expensive, especially in the world of personal audio.
For instance, instead of purchasing low-quality and cheap price earbuds, you can check the powerful competitive earbuds "TOZO TWS Bluetooth Waterproof Wireless and In-Ear earbuds With Mic and Volume Control" that come at a reasonable low price and very good quality in terms of sound and made.
Which Last Longer Earphones or Headphones?
Earbuds go the distance. When it comes to durability, it's earbuds for the win. Headphones are the kings of comfort, but they are a little on the bulky side and more prone to be dropped and broken. Earbuds were designed for physical activity, so they're a little more resilient.
This is where earbuds generally shine. Again, you can site poor quality as the exception here, poor construction and quality control lead to substandard products that break under almost any stress.
Headphones Vs Earphones for The Gym?
It's earbuds for the gym bag. Earphones/earbuds were designed for physical exercise, so when it comes down to it, they are the most practical for the gym.
However, there are pros and cons when it comes to. Headphones are perfect for aerobic cross-training like the stair master, ellipticals, and stationary bikes; really anything that doesn't require a lot of head movement. Earbuds are a necessity for any workout that requires a high degree of movement.
If you are willing to buy the best choice earbuds for the gym, jogging, or cycling, I advise you to go for the "PowerPro Sport 5.0 Wireless Waterproof Earphones – 50 Hours with Mic" which has the best sound quality, its small case (that comes with them) allows you to not depend on stationary power supplies but reliably provide the protection to your headphones while not using them, and it provides up to 50 hours of total backup power.
You may check this Gym and sports earbuds features from the short video below:
Earbuds Vs Headphones Gaming?
Headphones all the way! It's really no contest at all. Only Headphones will do when it comes to enjoying your favorite video game with any degree of success.
The perfect personal audio choice for gaming has to tackle three big tasks:
Great Musical Presentation – Thematic music is a central component in most video games these days. Helping to establish the setting and overall mood. If you can't hear the music properly you won't enjoy the same experience.
Great Sound Theatre Presentation – It's Just like going to the movies except this one is just for you. The sound staging plays a huge part in establishing the look and feel of gameplay. This is stuff like sound effects, dialog, etc.
Great Communications – Most games are designed for team play and the best personal audio device for gaming must cater to that need. Clear communication ability that runs simultaneously with other audio elements of gameplay.
The big problem with earbuds in this fight is simply the fact a lot of them don't allow for 2 way communication.
NOTE: The earbuds that have microphones built-in generally don't allow for enough comfort while gaming.
But some earbuds give traditional gaming headphones a run for their money though. More and more, high-quality earphones are available that leave the user feeling like they are wearing nothing at all.
After meeting the general requirements for gaming headphones, the biggest thing on most gamers' minds is comfort. Gamers are known to play for hours at a time and there are a lot more options for comfort at a variety of price points when it comes to over-the-ear headphones for gaming.
So, if you are a true gamer or willing to be, you have to have proper comfortable gaming headphones that should work on every gaming console mobile device, or even pc, I advise you to go for SteelSeries Arctis 7P/7X which is the Best Gaming Headphones Overall so far with a reasonable price. This Wireless Gaming headphone is Compatible with (PC, PS5, PS4, Xbox Series X/S, Xbox One, Switch, and Android) its driver's size is 40mm, and the frequency response is (20 Hz – 20 kHz).
You may check SteelSeries Arctis 7P/7X easy setup process and compatibility from the short video below.
What are Better Wireless Earbuds or Headphones?
Wireless headphones are better. While a lot depends on what you are doing while you listen to your headphones, they are sure to provide the best overall listening experience.
When it comes to wireless headphones, salespeople or folks that spend a lot of time on the phone conferencing for work will line up behind a decent headset. Again, comfort is king for these applications and headphones slide in for the easy win.
NOTE: Still, one thing both competitors provide is the pure freedom of wireless technology, a total gamechanger for most.
For physical activity, wireless earbuds can be a dream come true. These days, wireless tech has gotten so good, that you can pack a lot of quality in a small package and a decent pair of earbuds may be all keeping you from the best workout experience of your life.
Headphones vs Earphones – The Pros And Cons
Headphone Pros
Comfort – The clear winner. Over-the-ear headphones are designed for comfort and they achieve the goal with stellar results.
Sound Quality – Another win. Over-the-ear headphones have larger drivers, there's no competition here, bigger drivers mean better sound.
Headphone Cons
Bulky – Over-the-ear headphones are big and bulky by nature, making them inappropriate for any rigorous physical activity.
Easily Broken – Because headphones are so bulky, they tend to be a little more sensitive to damage. If you drop a good pair of headphones there's a good chance they will get broken.
Earphone/Earbuds Pros
Compact – Earphones are small and portable making them inherently suited for physical activity.
Durable – Earphones tend to stand up to daily wear and tear a little better than their over-the-ear cousin.
Earphone/Earbud Cons
Poor Sound Quality – While technology has improved, sound quality is largely dependent on the size and quality of the drivers which are inherently smaller in earbuds.
Safety Risks – Poor sound quality and design of most earbuds lead users to turn up the volume, increasing the risk of hearing damage.
Conclusion
Headphones vs Earphones Which is Best?
Headphones provide the best overall performance but, at the end of the day, it's up to the user. Personal audio experiences are subjective and while there are clear advantages to headphones for many applications, the portable benefits of earphones/earbuds are obvious and singular.
Over-the-ear headphones have yet to provide a product that delivers when it comes to intense physical activity, but they are unparalleled when it comes to comfort and sound quality. I suggest purchasing a pair of each.